Come visit the NEW and IMPROVED website:
VEGGIETALES: THE ULTIMATE VEGGIEPEDIA!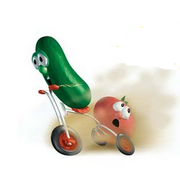 Here's the website URL: http://veggietales-the-ultimate-veggiepedia.fandom.com/wiki/VeggieTales_-_the_Ultimate_Veggiepedia_Wiki
(please read the Rules/Policy) Thank you!
This wiki will still be here, but you're always welcome to join in the fun at VeggieTales: The Ultimate VeggiePedia!
if you have any questions about our new website, message me, and I'll answer it ASAP. :-)
  — The founder of VeggieTales - It's for the Kids! Wiki, PotatoMan10
IF YOU WANT TO BE AN ADMIN, MESSAGE POTATOMAN10
Welcome to the VeggieTales - It's For the Kids! Wiki
Join Bob and Larry in the Christian Biblical show about God! Help by writing and editing articles about characters, episodes, locations, songs, etc. If you don't know VeggieTales, visit VeggieTales.com or read this wiki to learn more! It'll also help to correct grammar or spelling errors and please use Italics and apostrophes when you list episodes. Have fun and remember: God made you special, and he loves you very much!
AN IMPORTANT MESSAGE FROM POTATOMAN10 AND THESOLAREXPRESS:
WE'LL NO LONGER ALLOW ANY FANFICTION OR FALSE INFORMATION ON THIS WIKI. IF YOU DON'T FOLLOW THIS SIMPLE RULE, I'D ADVISE THAT YOU MOVE TO A FANFICTION WEBSITE OR YOU'LL BE BANNED. THIS IS ALSO A RULE FOR THE NEW WIKIA, VEGGIETALES: THE ULTIMATE VEGGIEPEDIA. PLEASE VISIT THIS WEBSITE AND VISIT THE RULES PAGE WHERE THERE'S A LIST OF RULES THAT YOU MUST FOLLOW FOR THAT AND THIS WEBSITE. IF YOU VIOLATE ANY OF THESE RULES, YOU'LL BE BANNED FOR A TIME MOST APROPPRIATE TO YOUR VIOLATION. IF YOU SEE ANYONE VIOLATING THESE RULES, PLEASE NOTIFY OR REPORT IT TO EITHER OF US, AND WE'LL CARE FOR IT. THANK YOU FOR KEEPING THIS WEBSITE A BETTER PLACE. :)
Latest activity
Hello, There! This wiki needs some help getting started and needs more people helping creating pages! If you know what VeggieTales is, create pages about it! You can also help by telling friends who know it, also!
Community content is available under
CC-BY-SA
unless otherwise noted.