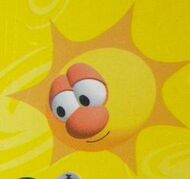 Sunny
is a very minor character in VeggieTales. He only appears in 3 episodes. He first appeared when the Grape Family when their car was driving by, and he was surprised by all the smoke the car was making. He also appeared by the bus stop when he was about to melt Larry's chocolate and flatten his hat.
Appearance
He looks like a normal vegetable, except orange sun rays flow out of him. His eyes are colored orange and he is also yellow. You can also slightly see a white light behind him in "Larry's High Silk Hat." He also has a big orange nose.
Acting
Himself in "God Wants Me To Forgive Them!?!"
Himself in "Larry's High Silk Hat on "Lyle the Kindly Viking"
Himself in "Merry Larry and the True Light of Christmas"
Himself in "Veggietales in the City"
Gallery