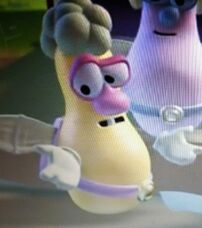 Snoodle Lou
is a snoodle who lives in Snoodleburg. He was one of the snoodles to make fun and discourage the younger Snoodle Doo by painting humiliating pictures of him so that he wouldn't think about painting or flying.
Appearance
Snoodle Lou is one of the older snoodles. He is a bright yellow snoodle with one tooth. His eyelids and nose are colored dark pink. His belt is also pink and has a gold plating in the middle. He grows white hair and has a stalk sticking out of it, which holds another tuft of hair. Like all snoodles, he has wings and gloves.
Acting
Himself in "A Snoodle's Tale"