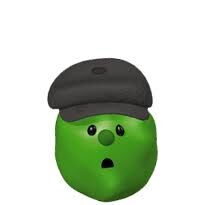 Percy Pea is the oldest child of the Pea Family in VeggieTales. He likes to watch alien movies with his little brother, Lil' Pea. He is friends with Junior and sometime is seen with him. Percy is most often seen as a citizen of Bumblyburg.
Appearance
Percy is a small pea with freckles. He is usually seen wearing a cap on his head, sometimes slightly matching his younger brother.
Acting
Himself in "The Toy That Saved Christmas"
Himself in "Larry-Boy! And the Fib From Outer Space!"
Israelite in "Josh And The Big Wall!"
Bear Owner in "The Yodeling Veterinarian of the Alps on "The End Of Silliness"
Himself in "Larry-Boy And The Rumor Weed"
Crony in "Esther The Girl Who Became Queen"
Young Lad in "Omelet on "Lyle the Kindly Viking"
Himself in "Jonah A VeggieTales Movie"
Sheep in "The Star Of Christmas"
Benny in "An Easter Carol"
Himself in "Bully Trouble on "Minnesota Cuke And The Search For Samson's Hairbrush"
Orphan and Solider in "Gideon Tuba Warrior"
Himself in "The Pirates Who Don't Do Anything: A VeggieTales Movie"
Himself in "Saint Nicholas A Story Of Joyful Giving"
Himself in "It's A Meaningful Life"
Himself in "Happy Together"
Himself in "Twas The Night Before Easter"
Himself in "The Little Drummer Boy"
Himself in "Lenny and the Lost Birthday" on "Robin Good And His Not So Merry Men"
Himself in "Eddy Woodley: The Artist Who Never Gave Up"
Himself in "Where's God When I Need Him"
Himself in "Massproution Madness"
Himself in "The Cripser County Charity"
Punny in "Bubble Veggies"
Cratchit Child #1 in "A Veggie Christmas Carol"
Poodles in "Bickey Mouse Clubhouse"
a Mall Delivery Boy in "David and he Lion's Den"
Himself in "Jimmeas the Jerb"
Big Red in "Esther and Haman's Return"
Community content is available under
CC-BY-SA
unless otherwise noted.