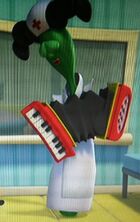 Miss Achmetha is a minor character in the VeggieTales series. She is a famous accordion player who often plays her favorite song, "Lost Puppies." She is also often seen as a nurse. She has a habit of twitching constantly.
Appearance
Miss Achmetha is a green onion. She grows long black hair and wears pink lipstick and twitches constantly. In "Twas The Night Before Easter," her hair is colored brown
Acting
Herself in "Esther The Girl Who Became Queen"
Herself in "Larry's High Silk Hat on "Lyle the Kindly Viking"
Jopponian in "Jonah A VeggieTales Movie"
Herself in "The Star Of Christmas" (picture)
Nurse in "Belly Button on "The Ballad Of Little Joe"
Herself in "The SUV Song on "A Snoodle's Tale"
The Pharaoh's Daughter in "BabySitter in DeNile on "Duke and the Great Pie War"
Elf Girl in "My Baby Elf on "Lord Of The Beans"
Themselves in "Tomato Sawyer And Huckleberry Larry's Big River Rescue"
Nurse in "Abe And The Amazing Promise"
Herself in "Twas The Night Before Easter"
Headmistress Minchin in "The Penniless Princess God's Little Girl"
Headmistress Minchin in "The Little House That Stood"
Herself in "Perfect Puppy on "Celery Night Fever"
Madame Chalot in "Beauty and the Beet"
Herself in "Dave's High Silk Hat on Bob the Tomato Movie"
​Trivia
She plays the accordion in most of the episodes she appears in.
Though Bigidea said that she was going to be a carrot in the further episodes she appeared as a green onion in "The Penniless Princess,"
When she acted as Mrs. Minchin, she didn't twitch, probably because that was her first time playing a different role than herself.
Gallery