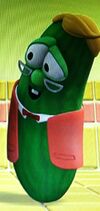 Mark the Cucumber is one of the oldest brothers of Steve and Larry the Cucumber. He is the second tallest of the Cucumber brothers and shares the talent of singing with his brothers, He doesn't talk much and works at a hardware store with his two brothers.
Appearance
Mark is the second tallest cucumber of Larry's brothers. He has one tooth and grows blondde hair that is neatly combed. He wears gray moon glasses and a red vest. He also wears white collars with a red bowtie. He is very to Larry's costume in his Silly Song, "Schoolhouse Polka."
Acting
Himself in "Duke and the Great Pie War"
Themselves in "The Pirates Who Don't Do Anything: A VeggieTales Movie"
Audience Member and Milano in "Pistachio The Little Boy That Woodn't"
Himself in "Larry-Boy and the Non Gentle Giant Robot: A VeggieTales Movie"
Gallery