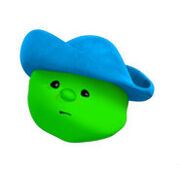 Lil' Pea
is the youngest member of the Pea Family in VeggieTales. He is often seen with his older brother, Percy, in most episodes he appears in. They both often agree on things and Lil' Pea often listens to his older brother. He often wears similar things as his brother too, such as the same hats.
Appearance
Lil' Pea is a smaller version of his brother. Like him, he has freckles. In the Larry-Boy episodes he appears in, he wears a cap almost identical to his brother's.
Acting
Worker in "Rack Shack & Benny"
Israelite in "Dave and the Giant Pickle"
Himself in "The Toy That Saved Christmas"
Himself in "Larry-Boy! And the Fib From Outer Space!"
Israelite in "Josh And The Big Wall"
Himself in "Larry-Boy and the Rumor Weed"
Himself in "Bully Trouble on "Minnestoa Cuke and the Search for Samson's Hairbrush"
Himself in "The Pirates Who Don't Do Anything: A VeggieTales Movie"
Himself in "Saint Nicholas: A Story of Joyful Giving"
Lil' Pea with Pink Winter Hat in "Merry Larry and the True Light of Christmas"
Himself in "Where's God When I Need Him"
Lavi in "Bubble Veggies"
Singer in "A Veggie Christmas Carol"
a coachman in "David and the Lion's Den"
Child in "Strawberry, Alvin and the Great Escape"