Jerry Gourd is a gourd and Jimmy's brother.
Appearance
Acting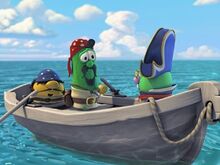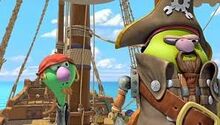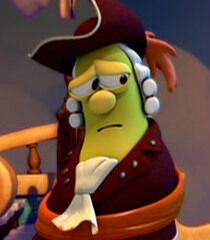 Himself in "The Gourds Must Be Crazy" on "Are You My Neighbor?"
Dave's Brother in "Dave and the Giant Pickle"
Stage Crew in "The Toy That Saved Christmas"
Himself in "Larry-Boy and the Fib from Outer Space!"
Israelite and Himself in "Josh and the Big Wall!"
Himself in "Are You My Neighbor?" on "Bob & Larry's Favorite Stories"
Himself in "His Cheeseburger on "Madame Blueberry"
Larry the Gourd, Swede and Himself in "King George and the Ducky"
Polonius and Erik in "Lyle the Kindly Viking"
Jopponian and Milkman in "Jonah: A VeggieTales Movie"
Constable in "The Star of Christmas"
Himself in "The Wonderful World of Auto-Tainment!"
Blacksmith in "The Ballad of Little Joe"
Constable in "An Easter Carol"
Larry and Cameraman in "Sumo of the Opera"
Canadian Officer in "Minnesota Cuke and the Search for Samson's Hairbrush"
The Other Elf in "Lord of the Beans"
Customer in "Sheerluck Holmes and the Golden Ruler"
Cameraman in "Larry-Boy and the Bad Apple"
Milkman and Parade Reporter in "Gideon: Tuba Warrior"
Himself in "God Made You Special"
Jerry with Red Shirt in "The Wonderful Wizard of Ha's"
Theather Foe in "The Pirates Who Don't Do Anything: A VeggieTales Movie"
Himself and The Duke of New Orleans in "Tomato Sawyer and Huckleberry Larry's Big River Rescue"
Canadian Officer in "Minnesota Cuke and the Search for Noah's Umbrella"
Himself and Guard in "Sweetpea Beauty: A Girl After God's Own Heart"
Himself in "'Twas the Night Before Easter"
Steve in "Princess and the Pop Star: A Story of Trading Places"
Shepher and Himself in "The Little Drummer Boy"
Himself in "If I Sang A Silly Song"
Serf in "Robin Good and His Not-So-Merry Men"
Steward  2 in "The Penniless Princess: God's Little Girl"
Servant #2, Dungeon Guard and Andrew in "Lettuce Love One Another"
Himself in "Happy Tooth Day to You on The Little House that Stood"
MacJerry and Scottish Jerry in "MacLarry and the Stinky Cheese Battle"
Explorer and Himself in "Veggies in Space: The Fennel Frontier"
Groovy Gourd and Himself in "Celery Night Fever"
DJ in "Beauty and the Beet"