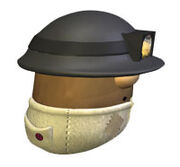 Henry
is a minor character in VeggieTales. He is known to be the only potato that just wears underwear. So far, he appeared shortly in four episodes. It's possible he has relatives around the Spain area because when Larry was showing his vacation pictures, it shows him bullfighting with a group of potatoes watching him.
Appearance
Henry is a potato from West Virginia. He wears a miner hat with a flashlight attatched. Like some characters, his eyes are unable to be seen. He also wears cotton underwear with gray patches and an opening at the back. He and his co-workers use the ginsu steak knives for mining, and the knives are still going strong to this day.
Acting
Himself in "The Forgive O-Matic on "God Wants Me To Forgive Them!?!"
Flibbian in "The Story of Fibber O Loo on "Are You My Neighbor?" (cameo)
Himself in "Song of the Cebu on "Josh and the Big Wall" (Picture)
Po-Tato in "Sumo of the Opera"
Guard in "Robin Good & Not So Merry Men"
Gallery