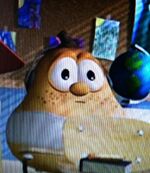 Gordy Gourd is a student in Veggie Valley Grade School Students in Bumblyburg. He eats junk food and his favorite is popcorn and soda, as shown in his concept art. He also likes to listen to his headphones during class, as shown in his only appearance. He sits behind Laura Carrot and across from Lenny Carrot and Barth.
Appearance
Gordy is a small pale orange gourd with freckles. He wears a white T-Shirt and has a brown stem. He is also seen wearing gray headphones. He is somewhat similar to his uncle, Jimmy Gourd.
Acting
Himself in "LarryBoy and the Rumor Weed (cameo)
Child in "Strawberry, Alvin and the Great Escape"