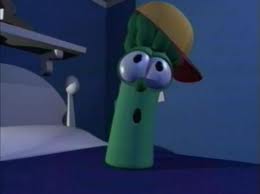 God is bigger than the boogeyman
 is the song that Bob and Larry sang to Jr. when he was scared at night for comfort. This song was in the very first VeggieTales episode,
"Where's God When I'm S-Scared?"
Lyrics
Bob: "You were lying in your bed. You were feeling kind of
sleepy. But you couldn't close your eyes because the
room was getting creepy.
Larry: "Were those eyeballs in the closet? Is that Godzilla
in the hall?"
Bob: "There was something big and scary casting shadows
on the wall. Your heart is beating like a drum. Your skin is
getting clammy. There's one-hundred tiny monsters jumping right into your jammies!"
Bob: "What are you going to do?"
Junior: I'm going to call the police."
Bob: "No! You don't have to do anything, because..."
Bob and Larry: "God is bigger than the Boogie Man! He's bigger than Godzilla or the monsters on TV! Oh, God is
bigger than the Boogie Man and he's watchin' out for you and me!"
Bob: "Get it?"