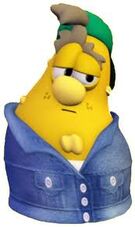 Don Gourdon
is a minor character in the VeggieTales series. He liked to bully Junior, but he stood up for himself and Don soon stopped bullying. Before he stopped being a bully, Don haunted him whenever Junior was daydreaming. He then made cameo appearances in other episodes. He is also a fan of Larry-Boy and he is sometimes seen wearing a shirt with Larry-Boy on it.
Appearance
Don Gourdon is a yellow gourd. He has warts all over him and his chin is visable. He has a big nose and freckles, and grows brown hair and eyebrows. He is mostly seen wearing a hat and a jacket. He once was seen wearing a Larry-Boy T-Shirt and hat.
Acting
Monster, Football Players, Alien-like monster and Himself in "Bully Trouble on "Minnesota Cuke And The Search For Samson's Hairbrush"
Himself in "LarryBoy and the Bad Apple"
Orphan in "The Story Of George Muller on Gideon Tuba Warrior"
Bobby and Chester in "The Wonderful Wizard Of Ha's"
Themselves in "The Pirates Who  Don't Do Anything: A VeggieTales Movie"
Himself in "Minnesota Cuke and the Search for Noah's Umbrella"
Orphan in "Pistachio The Little Boy That Woodn't" (picture)
Himself in "It's A Meaningful Life" 
Himself in "Lenny And The Lost Birthday on "Robin Good And His Not So Merry Men"
Himself in "Celery Night Fever"
Himself in "Beauty and the Beet"
Himself in "Larry-Boy and the Non Gentle Giant Robot: A VeggieTales Movie"
Himself in "Family Road Trip"
Singer in "A Veggie Christmas Carol"
Child in "Strawberry, Alvin and the Great Escape"
Voice Actors
Gallery