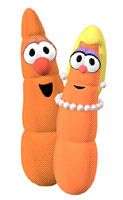 Josh Carrot is a minor character in VeggieTales. He is the father of Laura, Lenny, and Baby Lou Carrot. He is mostly seen with his wife. Mom and Dad Carrot changed their appearance and wore more clothing in the recent episodes. Dad Carrot has only made two cameos so far.
Appearance
Josh Carrot looked like a normal carrot in the earlier episodes. He was orange and had a big nose, which was a darker shade of orange and sometimes wore a tie. An early version of Josh Carrot in Are You My Neighbor? shows the sharp, pointy top of his head. In the latest episodes, he is in the shape of a baby carrot and grows brown hair, and has a smaller nose, plus he wears more accesories than in the erlier episodes.
Acting
Dad Lottian in "The Story Of Flibber-O-Loo" on "Are You My Neighbor"
Himself in "The Toy That Saved Christmas"
Laura's Dad in "Larry-Boy and the Fib From Outer Space"
Dad Carrot With The Sports Costume in "Madame Blueberry" (Banner)
Himself in "Larry-Boy And The Rumor Weed"
Pirate in "The Pirates Who Don't Do Anything: A Veggie Tales Movie"
Himself in "Saint Nicholas A Story Of Joyful Giving"
Asslyum Owner in "Strawberry, Alvin and the Great Escape"
Voice actors
Phil Vischer ("The Toy That Saved Christmas")
John Wahba ("Larry-Boy And The Rumor Weed")
Gallery