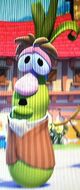 Charlie Pincher
is a minor character in the VeggieTales series. He is known as a wanted criminal in some episodes, but also a harmless senior. He once incourages Bob to think that he is special when he misunderstood Larry and thought that he said he wasn't special. Charlie can be seen on wanted posters in some episodes. Charlie is similar to The Scallions, but he is much older and less sneaky. He only appeared sneaky when he was with them in "Pistachio The Little Boy that Woodn't" as a
Worker of the Waterfront Carnival
.
Appearance
Charlie is a short scalllion. He has grayish-brown eyebrows and a large pink nose. His eyelids are also colored pink, but sometimes purple. His chin is visable and sometimes there are freckles on his face. There are also warts that cover him.
Acting
Himself in "The Star Of Christmas"
The Prospector in "The Ballad Of Little Joe"
Prisoner in "An Easter Carol"
Umbrella Boy in "Lord Of The Beans"
Janior in "Gated Community" on "Sheerluck Holmes and the Golden Ruler"
Worker in "Moe And The Big Exit"
Himself in "Bob's Vacation on "God Made You Special"
Janior in "The Wonderful Wizard Of Ha's"
Jolly Joe in "The Pirates Who Don't Do Anything: A VeggieTales Movie"
Leon Merengue in "Blunders in Boo Boo Ville" on "Abe and the Amazing Promise"
Carnival Person in "Pistachio The Little Boy That Woodn't"
Spanish Talk in "VeggieTales Another 12 Stories in One
Voice Actors
Gallery