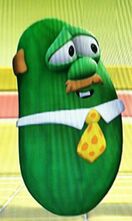 Bob the Cucumber is Larry's older brother in VeggieTales. Like his brothers, Steve and Mark, Bob has a talent for singing and doesn't talk much. He also works at a hardware store with Steve and Mark. He is the shortest of the few brothers of Larry.
Appearance
Bob is the shortest cucumber in the Cucumber family. He has one tooth and has a brown mustache. He grows brown hair and has a bald spot on his head. He wears a white collar with a yellow tie with orange polka-dots.
Acting
Himself in "Duke and the Great Pie War"
Themselves in "The Pirates Who Don't Do Anything: A VeggieTales Movie"
Dorito in "Pistachio The Little Boy That Woodn't"
Himself in "Larry-Boy and the Non Gentle Giant Robot: A VeggieTales Movie"
Did You Know?
Bob the one of Tomato said he should have known Larry had a brother named Bob.
Gallery