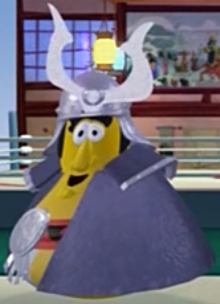 Appearance
Apollo Gourd is a giant yellow gourd. In his first appearance, he has warts and hairs growing all over him. He has a big nose and his chin is visable, and he grows a brown stem and eyebrows. He also wears a Gourd's Gym shirt. When he was Apollo Gourd, his warts and hairs were gone, and he grew black hair instead of brown.
Acting
Himself in "Larry's High Silk Hat on Lyle the Kindly Viking"
King Twistomer in "Jonah A VeggieTales Movie
Himself in "Sumo Of The Opera"
Little Jimmy in "Tomato Sawyer And Huckleberry Larry's Big River Rescue"
Himself in "Gravity Rises"
Himself in "VeggieTales"
Himself in "The VeggieTales Elimination Show"
Himself in "Dave's High Silk Hat on Bob the Tomato Movie"